OWNER/TRAINER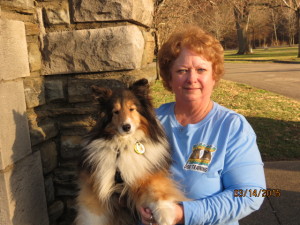 Robin Belcher Ash is a graduate and Certified Training Partner of Karen Pryor Academy (KPA). Her credentials include the Dog Trainer Foundation course and the Dog Trainer Professional Program. Robin is also a member of the Association of Professional Dog Trainers (APDT). Ongoing education through KPA and APDT is important in maintaining training competencies.
Providing a path for a partnership between dog and family through positive reinforcement training and being able to convey this partnership to others and their dogs is her mission. Blessed Furever Dog Training puts clients first and has high values and is referred to by local veterinarians.
Robin's passion for dog training comes from her love and partnership for her two Shelties, Lady and Angel, both therapy dogs able to go most anywhere because they were well behaved.
Robin has spent many years as a Project Management Professional. She brings to training the attributes of open communication, time management and building teams through respect whether it be human or dog and family.
When not training, you can find Robin, her business partner and husband Dick and their furry partner Angel in Ritter Park.
CO-OWNER/TRAINING ASSISTANT
Dick Ash has completed Karen Pryor Academy's Dog Trainer Foundation course. He is a member of the Association of Professional Dog Trainers (APDT).
He has also participated in the training and partnership development with Lady and Angel and their therapy dog visits.
In addition to assisting Robin with training, Dick will also be maintaining Blessed Furever's website and social media sites. He will also be involved in the business operations of the company.
Dick is also a writer for HerdNation.com, covering Marshall University sports.
CHIEF CANINE OFFICER
Hi! I'm Angel, the one in the picture and mentioned above. I'll be 11 in May, but Mom says I'm 9 and holding 'cause you're not supposed to ask a female her age.
I started training when I was a puppy and learning new things and good behavior probably kept me out of trouble (sometimes). I went on to be in  Obedience Competition and have three titles just like my predecessor Lady: Companion Dog, Companion Dog Excellent and Utility Dog.
My favorite thing is being in the park but I really like visiting with people during my therapy dog visits. Guess all that learning paid off…so I guess you could say I helped with getting Blessed Furever off and running.

\